Simone Prinsenberg, RMT, CDT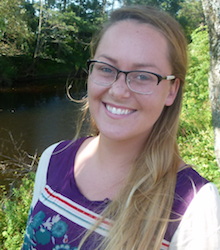 Simone has been a registered massage therapist for 5 years. She grew up being a competitive sprinter and snowboarder so was drawn to focus in sports massage when she studied at the Canadian College of Massage and Hydrotherapy in Bedford. Since then she has gone on to study additional modalities such as deep tissue massage, Kinesio Tapping, and became fully certified in Manual Lymphatic Drainage and Combined Decongestive Therapy by Dr. Vodder Institute in Austria.
Her love for travel and studying led her, as well, to become a yoga instructor in Goa, India. Simone has worked and volunteered with many local athletes and teams around Nova Scotia and internationally at events and in clinical settings. Among other conditions she has treated patients with acute and chronic sports related and MVI injuries as well as postural imbalances, acute and chronic lymphedema and swelling. As a massage therapist she enjoys coming up with individualized treatment plans that are a blend of her massage techniques (MLD, myofascial release, sports) as well as remedial exercises, yoga and Kinesio Taping. In her down time you can find Simone surfing, snowboarding or teaching Yoga!
About Dr Vodder Manual Lymphatic Drainage and Combined Decongestive Therapy
This is a gentle, non-invasive manual technique that has a powerful effect on the body. The skin is stretched and torqued in a specific manner, based on scientific, physiological principles that have proven to encourage lymph flow. If performed correctly with the correct pressure, direction and speed, this can greatly enhance recovery and facilitate drainage. It also has profound effects on systems in the body.
Manual Lymph Drainage can be utilized in the treatment of many different conditions including:
Primary and Secondary Lymphedema
Venous insufficiency
Non-infected inflammatory conditions (e.g. sprains and strains)
Ulceration
Dermatological conditions
Circulatory disturbances
Sports injuries
CRPS (RSD)
Burns
Pre- and post- plastic surgery